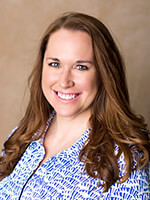 Sarah Gough, APRN. MSN WHNP-BC
Women's Health Nurse Practitioner
(903) 757-6042
Hours of Operation:
802 Medical Circle, Suite 100
Longview, Texas 75605
Get Directions
Sarah Gough, APRN. MSN WHNP-BC
OB-GYN
Education:
Medical: BSN, RN from Stephen F. Austin State University
Residency: MSN from Texas Woman's University with a major in Women's Health Nurse Practitioner
Specialty Interests:
Women's Health; Obstetrical and Gynecological
Biography:
Sarah Gough is a Women's Health Nurse Practitioner who is passionate about the care of women
throughout all stages of their life. She began her career in Cardiac ICU and then transferred to Labor and
Delivery where she found her aspiration to help support women. She graduated with honors from Texas
Woman's University and has been practicing since 2013 when she joined Dr. Lin at Diagnostic Clinic of
Longview. Sarah is also an Adjunct Professor @ LeTourneau University Nursing Program.
Sarah is a native East Texan and enjoys raising her two children here in Longview. In her leisure time she
loves embroidering, swimming, and playing tennis with her husband, children, and their miniature
golden doodle who tries to retrieve the ball! She has been honored to earn the title "Best of East Texas"
and will continue to provide excellent care to women.
Please call (903) 757-6042 to schedule an appointment