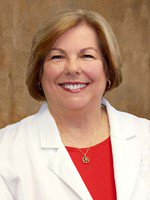 Cathy Thomas, R.N., MSN, CPNP
Certified Pediatric Nurse Practitioner
(903) 295-1396
Hours of Operation:
707 Hollybrook, Third Floor
Longview, TX 75605
Get Directions
Cathy Thomas, R.N., MSN, CPNP
Pediatrics
Education:
Specialty Interests:
General Pediatrics, Newborn Nursery, and Neonatal Intensive Care Nursing
Biography:
Cathy Thomas, R.N., MSN, CPNP, a board-certified, Pediatric Nurse Practitioner, has worked for DCOL since 1997. She has experience in general pediatrics, newborn nursery, and neonatal intensive care nursing. While in graduate school, she received the "Pediatric Nurse of the Year" award from Good Shepherd Medical Center. She is certified in Pediatric Advanced Life Support and a Fellow of the National Association of Pediatric Nurse Associates and Practitioners. Cathy actively promotes the nursing role both in the clinic setting and in the community, providing pediatric primary care and patient education. She serves as a clinical preceptor and is on the adjunct nursing faculty for both University of Texas at Tyler and Texas Tech University.
Please call (903) 295-1396 to schedule an appointment